"What is your product roadmap?"
That's a frequent (and fair) question for any technology vendor. While developing new features in any one product is essential, for companies like ROI Solutions that offer multiple products, there must be a comprehensive throughline.
The development of our current strategic roadmap started in 2020-2021 through conversations with clients, prospects, colleagues in the industry, and third-party nonprofit technology consultants focused on identifying the strategic business issues and technology trends nonprofit organizations need to address. Since then, we've continued holding formal and informal conversations to refine priority and focus. Broadly, the issues initially identified have remained the same and fall into several key categories: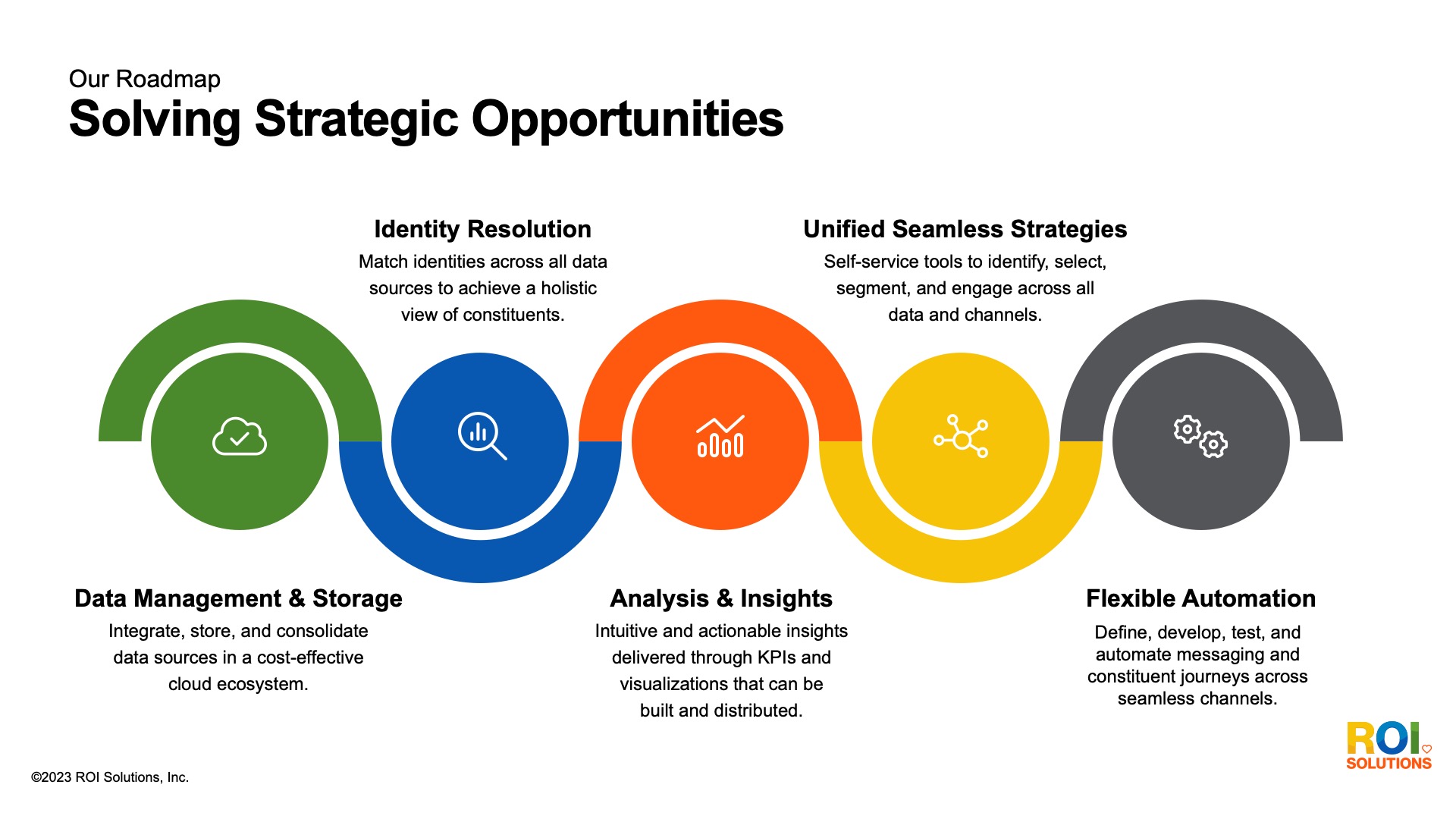 Data Management & Storage
Organizations are inundated with data from various growing sources and point solutions, including CRM, mission delivery, program management, event management, and different, sometimes disconnected, digital solutions. A strategy to integrate, store, and consolidate data sources in a cost-effective cloud ecosystem – without having to build it themselves – was a pivotal point we heard loud and clear.
Identity Resolution
When combining datasets and data fragments from various sources, duplicate identification by name and address, as in a CRM, doesn't cut it. True identity resolution to match identities across sources to achieve a holistic view of constituents is required to analyze and leverage the data effectively.
Analysis and Insights
Once an organization's datasets are combined and identities are resolved, it's possible to achieve intuitive and actionable insights. But many organizations don't have the data science expertise to know how to leverage the data. "Great, I have all my data together, but what should I do now?"
With the rise of Machine Learning and AI (we've offered our MiLo Intelligence predictive models since 2018), the ability to learn essential lessons from well-curated data has increased exponentially. Any solution should provide models, KPIs, and visualizations out of the box that can demonstrate trends or other essential measures. For those organizations with data science expertise, the solution must also provide the ability to expand the toolbox with their preferred toolsets.
Unified Seamless Strategies (aka Omnichannel)
For many organizations, the "constituent journey" is defined by the digital toolset that covers only a handful of engagement strategies. Everyone we talked with would prefer self-service tools to identify, select, segment, and engage with constituents in a journey across all channels using a holistic dataset. But, since most organizations have had to cobble together journeys through spreadsheets, their marketing agencies, or in a more disconnected fashion, change management will be required when an organization can accomplish it all from one place.
Flexible Automation
Once journeys can be defined holistically across all channels, organizations need the ability to define, develop, test, and automate messaging across every channel. For instance, if a direct mail donor becomes more responsive via digital channels, the system should shift to favor those digital channels.
With these business needs in hand, we've been working hard to envision how ROI Solutions can meet these needs. In an upcoming series of posts, we'll tell you more about our strategy and approach and the new products we've been building and testing.